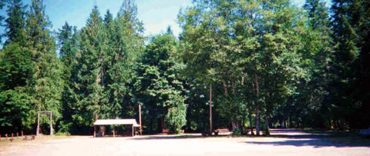 The Port of Dewatto maintains a natural and primitive campground available year around with 60 campsites about 40 minutes drive-time from Belfair on the Kitsap Peninsula.
The campsites are nestled among tall evergreen trees at the confluence of the Dewatto River and White Creek. You can drive or walk the Dewatto River 3/4-mile to the saltwater beach on Dewatto Bay, which is part of Hood Canal. Features camping, hiking, fishing, shellfish.
The campground is a delightful area for families with young children because the river bed is a wonderful area to explore and play in. The summertime water levels and current are not threatening except to the youngest children. Groves of tall trees protect and cool on warm days. Electricity is available for 37 campsites; there are 4 maintained toilets; a covered community kitchen area is located centrally to parking.
Did we say 'primitive'? Aside from the 37 campsites with electricity, there is no water system, sewage dump or garbage facilities. Please be prepared by bringing drinking water and removing your waste.
The campground is a park for the whole family to experience and enjoy. There is fishing, hiking or just sitting back watching the world go by — that is what is known as being "Dewattoized."
Dewatto Bay is just a short jaunt down the road, with a public beach area for oyster picking, clam digging or just watching the sun go down behind the Olympics.
Download Documents
Campground Rules & Regulations (coming soon — contact us for current info)
Reservation Form (coming soon — contact us for current info)
More Local Information